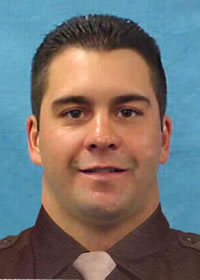 Henry Prendes was born in Las Vegas, Nevada on December 31, 1968.
Henry attended Las Vegas High School, graduating in 1987. With natural athletic talent and an outgoing personality, he was on the Wrestling, Varsity Baseball and Varsity Football teams (of which he was Co-Captain), and a member of Student Council.
He became the proud father of two daughters and joined the Las Vegas Metropolitan Police Department in 1991. Henry wanted nothing more than to protect and serve his hometown community. During his fifteen years on the force, he was described as loyal, highly regarded and well respected, and clearly not afraid to go above and beyond the call of duty.
A devoted Christian, Henry carried his Bible in his patrol car, often sharing scripture or words of encouragement with those he came in contact with. No matter where he was or what he was doing, he would always lend a helping hand, food, money, whatever, to those less fortunate than he.
In his spare time, Henry loved to golf, often hitting the links two or three times a week. An avid outdoorsman, he enjoyed traveling, hunting, fishing and camping. He enjoyed these hobbies so much so that in the weeks before his death, the Prendes family had seventeen acres of land in escrow in Libby, Montana, with plans to build a youth camp. Montana was one of Henry's favorite places to hunt and fish, and he wanted to create a place where children could learn valuable skills through fun and fellowship.
Following his death, his widow, Dawn Prendes, decided to move the location of the camp to where it could have a positive affect on the community he fought so hard to protect; thereby giving something back to the citizens and future generations of Las Vegas in Henry's honor.