We're not just building a camp…WE'RE BUILDING LIVES!
Our Impact Youth…Build A Legacy fundraising campaign provides the essential facilities needed to run camp all summer long,  tripling our capacity to help at-risk youth.
Impact Youth and Build Your Legacy today!

THREE WAYS YOU CAN HELP:
1) Be an IMPACT SPONSOR!
Change young lives by pledging to give an amount of your choice over 1 to 5 years!  Your commitment will allow us to secure funding to grow Henry's Place today and triple the number of children we impact each summer.
2) Be an IMPACT CHAMPION!
Be the example for others and ask them to be part of impacting at-risk youth!  We'll build you your own Champion Web Page (click the button to see what that looks like!).  You can then invite your friends to visit your page and to be part of what you are doing for Henry's Place. By encouraging others to follow your example you can multiply your donation's impact 5x, 10x, or 100x!
3) Be an IMPACT CROWDFUNDER!
Share on social media and you will make a difference for more and more vulnerable kids! There truly is strength in numbers: Imagine if your posts led 10 friends to give $50 each – that's $500.  If they have 10 friends that give, that's $5,000…and if each friend reaches 10 friends, that's $50,000!  Click the button to go to our GiveSendGo page, and then share the opportunity with all of your social media contacts!
Our Vision
We've proven our program through 8 years of running camp.  We know Henry's Place camps change young lives, and we want to continue to honor the legacy of Sgt Henry Prendes by impacting more at-risk youth through high-quality free Christian camp programs at our own purpose-built facilities!
Our Need
Through this Impact Youth…Build A Legacy Campaign we have completed our main lodge, but we still have a loan to settle and other key infrastructure to build.  Your support allows us to
MORE THAN TRIPLE
the number of "children of promise" we can serve each summer!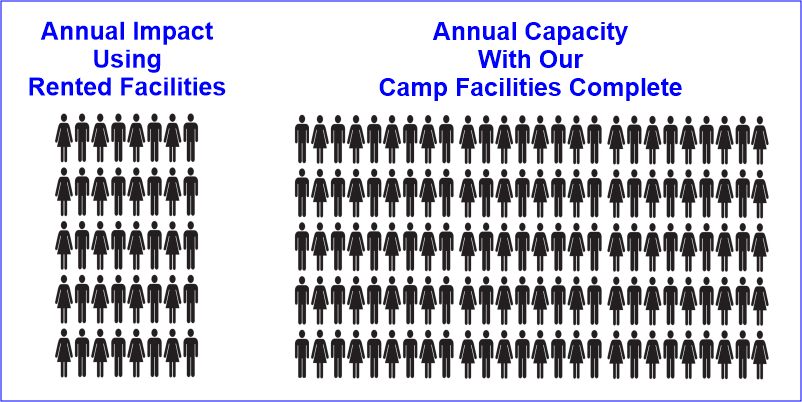 Each one of the "stick figures" in the diagram above represents a real child with hopes, dreams, and incredible potential!