Come To Our Spring Camper Reunion!
It's about time for our Las Vegas Spring Camper Reunion!  (UT Campers, yours is coming up on April 15th!)
 Who: Previous Henry's Place Campers from the Las Vegas area
What: Spring Camper Reunion (Hiking, lunch, games, etc.) – no cost to you…we'll provide food and drinks.
When: April 1st, 10:30 – 3:15
Where: Meet in the Smith's parking lot at Rancho Towne and Country (850 S Rancho Blvd).  Depending on weather conditions we'll go either to Spring Mountain Ranch State Park (Near Red Rock Canyon) or Spring Mountains Visitor Gateway (near Mt Charleston).  We'll drop you off at 3:15 back at the Smith's parking lot.
Why: TO HAVE AN AWESOMELY AMAZING TIME OF COURSE!!
What Next:
Fill out our online registration form by clicking this link: https://forms.gle/V1AbKxQ5y2YVWyFS7 or by following this QR: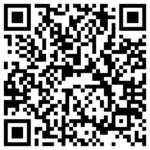 We only have 16 available seats on the bus…so sign up now!
Have questions or need details?  Call Dan at 229-415-2999.